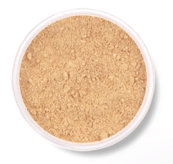 Light beige har en lite varmare underton och är en väldigt ljus nyans som passar dig som har en väldigt ljus hudton. Kanske är du svarthårig med ljus hy eller åt det rödlätta hållet. Porslins-hy och glas-hud är också två ord man brukar använda i sammanhanget. Om man använder Light beige på vintern kan man byta till Soft beige på sommaren när man får lite färg, som är samma nyans men snäppet mörkare.

NATURLIG, inga utfyllnader, bara rena mineraler.
Burk med sil 3 gram / 0.10 fl oz
En underbar Foundation som blir sidenlen på huden och ger ett naturligt resultat. Jobba in med vår Kabukiborste i cirklande rörelser. Ju mer man tar, desto mer täckande. Foundationen går samman med hudens naturliga sebum som gör att det fäster men inte täpper igen. Vår Mineral foundation ger naturligt ett visst solskydd och är lätt bakteriedödande utan att torka ut vilket gör att det fungerar bra även på Rosacea och acnehud mm.
PÅ ETIKETTEN: (Mica) CI77019, (Titanium Dioxide) CI77891, (Zinc Oxide) CI77947, (Ultramarine Blue) CI77007, (Iron Oxide) CI77491, CI77492, CI77499.
Light beige has a slightly warmer undertone and is a very bright shade that fits you with a very bright skin tone. Perhaps you are black-haired with light hay or in the red-lighted way. Porcelain skin and glass skin are also two words that are commonly used in the context. If you use Light beige in winter, you can change to Soft beige in summer when you get some color, which is the same shade but darker.

NATURAL, no fillings just pure minerals.
Jar with sifter 3 gram / 0.10 fl oz

A wonderful foundation that becomes like silk on the skin and gives a natural result. Work it in with our Kabukibrush in circular movements. The more you take, the more coverage you get. The foundation combines with the skin's natural sebum, which makes it attach but not clog your pores. Our Mineral foundation naturally provides a certain amount of sunscreen and is gently germicidal without drying out, which makes it work well even on Rosacea and acne skin etc.