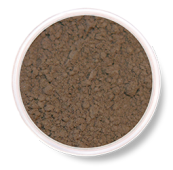 Shape your brows to perfection with our Eyebrow powder. Use our oblique brush or our Tiny. Fix them with YAG's Eyebrowfix. Available in a warm and cool shade that suits the most.

NATURAL, no fillings just pure minerals.
Jar with sifter 2 gram

Inc. 25% tax
INCI: Ricinus Communis seed oil, Glyzine Soy Wax, (Mica) CI77019, (Magnesium Stearate) (Zea Mays), (Iron Oxide) CI77491, CI77492, Lactic Acid, Copernicia Cerifera, Olea Europea Oil, Tocopherol Acetate, Benzyl Alcohol.