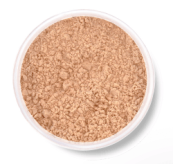 Soft beige has a slightly warmer undertone and is one of our most common shades. It shares the first position with our Soft latte that has the same brightness mode, but pulls towards the cold direction instead. This shade usually fits all of us who were blond as little but are more medium blonde/cendre to dark blonde in the hair as an adult. If you use Soft beige in summer, you can switch to Light beige in winter when paler.

NATURAL, no fillings just pure minerals.
Jar with sifter 3 gram

Inc. 25% tax
A wonderful foundation that becomes like silk on the skin and gives a natural result. Work it in with our Kabuki brush in circular movements. The more you take, the more coverage you get. The foundation combines with the skin's natural sebum, which makes it attach but not clog your pores. Our Mineral foundation naturally provides a certain amount of sunscreen and is gently germicidal without drying out, which makes it work well even on Rosacea and acne-prone skin etc.
INCI: (Mica) CI77019, (Titanium Dioxide) CI77891, (Zinc Oxide) CI77947, (Ultramarine Blue) CI77007, (Iron Oxide) CI77491, CI77492, CI77499.